About Us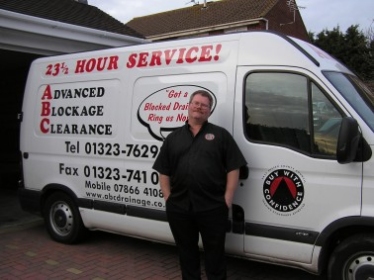 As easy as A B C ...
ABC was started in January 1999 by Ross & Wendy Greenwood.
The original vehicle was a 2nd hand Sherpa van which expired quite quickly so the decision had to be made whether to invest yet more money in the fledgling business or go back to working for someone else.
The right decision was made to buy a brand new Renault Master van and we are now on our fourth one.
Since the early days the company has grown and now splits its work between local authorities, builders, property management companies and private households.
We operate a 4000 PSI ( 275 Bar ) / 12 gallons a minute high pressure water jetter which is about the optimum combination of pressure and flow for 95% of drains in use today.
For smaller pipes we carry a variety of rods and sanisnakes.
It is not often we get beaten by a problem although if it does happen it is usually due to a bigger problem such as collapsed or defective pipes.
If we suspect damage to the pipes we can carry out a CCTV survey and produce a DVD record.
Our policy is to provide a cost effective service whilst attempting to resolve the problem on the first visit.
If you need any further information click here for ABC Ltd's contact details